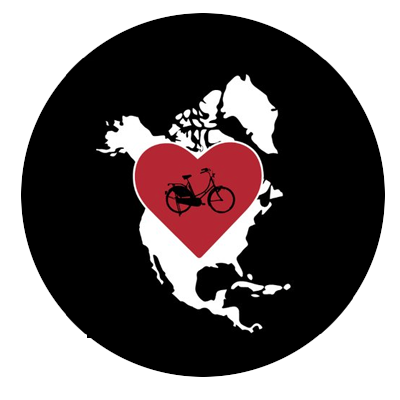 FAQs:
What is the purpose of the Plain Bicycle project?
To bring as many "plain bikes" to Winnipeg as possible. To hasten the arrival of a Winnipeg where cycling is simply normal. To share the joy of cycling upright, rain or shine, in any clothes. To simplify the choice of buying a bike. To show what a practical, street-worthy, daily-ridden bicycle looks like. To encourage bike shops in Winnipeg to sell them. Maybe one day to have them made here in Winnipeg. And mostly, to make YOU very very happy, because all bikes are great, and going fast or hard is fun, but once you've ridden a Dutch bike to go get some milk, it can be very hard to go back.
What is a "plain bike"?

The bikes we bring to Winnipeg are "real" Dutch bikes. They aren't all necessarily originally made in the Netherlands (supply chains are global these days) but lots of 'em are. They certainly have all been ridden on the streets of Dutch towns and cities, many of them for decades. A Dutch person would call these bikes "omafiets". Most Dutch people will tell you that an "omafiets" is the basic "Dutch bike" because in the Netherlands, 95% of the bicycles are this kind of bike – they look essentially the same, albeit with slight variations in components, colour, seat etc.
What do they have in common? They are durable, comfortable and, well, beautiful. They are meant to be ridden at an easy pace, with the head up, watching the landscape pass by. They are intended for any climate and ridden in any clothing. You will often see a Dutch bike carrying more than one person (friends, or lovers, or people you've just met). They are often traded and handed down from person to person. These bikes are endemic to the most advanced cycling cities and a hallmark of the great cycling nations on the Planet. The same essential prototype exists in Denmark, China (where the Flying Pigeon brand was once the most common machine on Earth), Finland, Germany, Sweden, parts of France, Italy and Spain, Africa, India… anywhere that the bicycle has become established and "normal".
Its a kind of one-size-fits-all bike that actually, well, comes in a few sizes – small, medium and large basically – but that is otherwise ubiquitous and ridden by everyone at some point. People of all heights and size or ability can ride just about any plain bike in a pinch. It is for this reason they are the most common bike on the street in the Netherlands. It also why they are easily shared and passed on from generation to generation. Their name means "grandma's bike" for a reason. It is also for this same reason they are the preferred style of bike used by modern day bike share systems! They are a DREAM to ride.
One day, for whatever reason, they were simply separated from their owners, whether by being seized for being parked in the wrong spot, retrieved from a thief and unable to find its owner, blown into a canal or simply misplaced after a particularly night full of "gusto" on the town. These were picked up and brought to a municipal yard. Unclaimed ones get auctioned off, like we do here in Winnipeg. Although at a crazy scale. Imagine our auction, except you have to buy a minimum of 25 bikes and there is an auction every week or so all summer.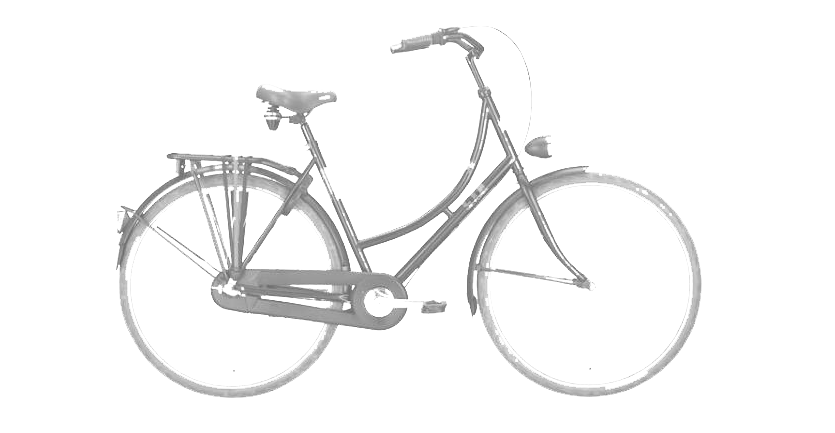 Why be part of the project?
You will be helping others catch a glimpse at what everyday cycling looks like. Plus, you get a sweet ride. Bicycles in the Netherlands are meant to be ridden everyday. The purpose of the project is to bring a little more of both to Winnipeg. While doing so, we will all spark an important discussion of how to plan better cities.  All of our sales go directly into building more trails and advocacy. 
The most common type of bicycle in the Netherlands is surprisingly hard to find here. That doesn't necessarily make them special. They are certainly no more/no less special than a ubiquitous grey Honda Civic, for example. Ironically, while this project has bicycles and technology at the heart, it is actually about the exact opposite. It is not about bicycles at all, rather about the lack of the need to think about the bicycle.In fact, what makes plain bicycles so special is the fact that they are so common. There is something quite liberating about riding to work on the same "plain bicycle" as every one else. It is compounded by not having to plan your route, wear special clothing or know what kind of derailleur you have if it breaks.  The bicycles you see everywhere in Rotterdam, Eindhoven, Utrecht may be all be similar, but they are beautiful and each one is embedded with a sense of civilization, freedom and normalcy.
It is just a matter of time before the shift happens here. You are simply helping it along. And it can happen fast. Networks of cycling infrastructure can take surprisingly few years to complete. The Netherlands only started building cycle tracks in earnest after the 1970s. In 2003, cycling rates in Seville, Spain jumped by 11X (!) over a few short years after they got serious about an ambitious, segregated network of protected bike lanes. Cycling networks across our own continent are growing (in Winnipeg too).  As they grow, a "plain bicycle" will probably quickly become the preferred bike for most.  So, what better way to welcome the bicycle infrastructure being built in Winnipeg and all across North America than by being one of the early adopters?
Who rides one? 
Everyone. As the saying goes, in the Netherlands, there are very few cyclists, but lots of people who ride bikes. In the Hague, specifically, more than 22 out of every 100 trips is taken by bicycle. The numbers are even higher in cities like Gronigen, Njimegen, Tilburg and so on.
To get a rough idea, watch this famous video from Utrecht. Keep an eye on the kind of bikes people are riding:
Who are they for?
Individuals, families, couples. A few plain bikes also make an awesome, inexpensive and useful little fleet for offices – especially with the built in lock. Arrived at work by bus or car, but have a lunch meeting a few blocks away? No problem. Just hop one of the office bikes and go. Just a nice little thing that an employer can do to keep its employees happy…and productive.
What will MY bike have?
Your bike will be guaranteed to:
– work
– have fenders, front and back
– have upright handlebars
– it will have a rack for riding "Dutch"
– it will have an integrated lock
– kickstand
– a sturdy steel frame
It might have:
– a front rack
– a bell
– a coaster brake
– working running lights and dynamo
It will probably have:
– a fully-enclosed chainguard
It probably won't:
– have gears (Netherlands is flat, so is Winnipeg); if it does have gears, it is likely internally geared (which lasts much longer anyway and stands up to more abuse)
It definitely won't have:
– shocks
– gel seats
– computers
– disc brakes
– knobby tires
– carbon fibre
but you don't need or want any of that on an everyday bike, do you?
How much do you sell them for?
$360 CAD plus tax  ($175 non-refundable)
What is the risk?
We all share in the risk. The non-refundable $175 goes towards mitigating the risk of acts of god, customs, and whatever other unforeseen issue that may arise. During round 1, organizers took on the risk on everyone's behalf. Round 2, we decided to share the risk so we can sleep a little easier. Ultimately, allowing a container to enter the country it is up to Canada Customs, and there is nothing we can do to guarantee that they will accept it and this just makes things more fair for all involved. But then a whole other situation happened for round 3. Since it is happening in the middle of a pandemic, Winnipeg Trails Association took on all the risk out of an understanding that individuals may not be able to help during these uncertain times. 
OK I am in. How do I get a bike?
You're in luck. A shipment is happening now. Go here.

When can I expect to receive my bicycle?
We do our best to get the bikes out to people as quickly as possible. If you are on our waiting list or have purchased a bike we keep you informed by email about the essential information as it comes. We post general updates to social media. For round 3 we expect to see people get their bikes this summer (2020).
I signed up to the waiting list a long time ago, am I guaranteed a bike?
No, but we give you first dibs. If you signed up to be on the waiting list you will have been given a head start by hearing about this news first and having access to the sign up link in your email! 
Will it be my size?
You will be paired with bikes in the small, medium or large sizes as per your height filled out on the sign up form.
Do I get to choose my bike?
Like the first time we will have a randomized selection process according to size and category of bike you pay for. Of course we won't stop you from organizing a trade with a fellow plain bike owner.
What colour will my bike be?
As Henry Ford said, you can have a bike in any colour you want as long as it is black…. (Or in this case, whatever colour it happens to be.)
Where do these bikes come from?
An incredible number of bicycles are abandoned, traded-in, donated or sold by their owners every year in the Netherlands. This time around the bikes are all coming from Fietspunt in Utrecht, NL. Run by the city of Utrecht, Fietspunt recycles abandoned bikes.
Is an omafiets a "girls" bike?
First of all, all bikes are girls bikes, right? In the Netherlands, the distinction isn't made and we don't either. Of course, the word "grandma" is female, and as long as women wear skirts, the sloping down tube on a plain bike sure is handy, but importantly, people of all ages ride a bike with the sloping top tube because they are simply ergonomic. Getting on and off is easy. There is also a "grandpa's" bike, with a straight top tube, but its mostly because of that skirt and well, there are so many omafiets in Netherlands ridden by men that it just doesn't matter.
Who is behind all this?
Anders Swanson is from Winnipeg. He used to repair lots of bicycles at his favourite bike shop. Now he goes around working on bicycle policy, infrastructure and design.
Leigh Anne Parry is a theatre director, and former bicycle courier with some mad organizational skills and an equal passion for bike infrastructure and growing plants in urban spaces.
Torrin Swanson is a digital engineer who is passionate about active transportation, communities, engaging technology, story telling, and is motivated to help create new ideas in each of those fields.
Ian Frank works as a management consultant but his true passion lies in city building and active transportation. He wants to ensure everyone can experience the simple but transformative freedom that come with riding a bicycle.
Dan Reihl and Jenny Sawatzky are in the Netherlands doing the important stuff. Making it happen. They didn't even have time to write a bio. 
Contact us:
For most questions, you can find us on twitter or if your question is private (i.e. you are ordering as a gift and need to clarify something) get to us via email. leighanne[a]plainbicycle.org
Feel free to share this with anyone you may think would be interested.