What is the goal of the project?
The goal is to bring an entire shipping container of refurbished "plain bicycles" from the Netherlands to Canada. One of them could be yours.
What is a plain bicycle?
In the Netherlands, 95% of the bicycles look essentially the same, albeit with slight variations in components, colour, seat etc. What do they have in common? They are durable, comfortable and, well, beautiful. They are meant to be ridden at an easy pace, with the head up, watching the landscape pass by. The are intended for any climate and ridden in any clothing. You will often see a Dutch bike carrying more than one person (friends, or lovers, or people you've just met). They are often traded and handed down from person to person. Plain bikes are endemic to the most advanced cycling cities and a hallmark of the great cycling nations on the Planet. The same essential prototype exists in Denmark, China (where the Flying Pigeon brand was once the most common machine on Earth), Finland, Germany, Sweden, parts of France, Italy and Spain, Africa, India… anywhere that the bicycle has become established and "normal".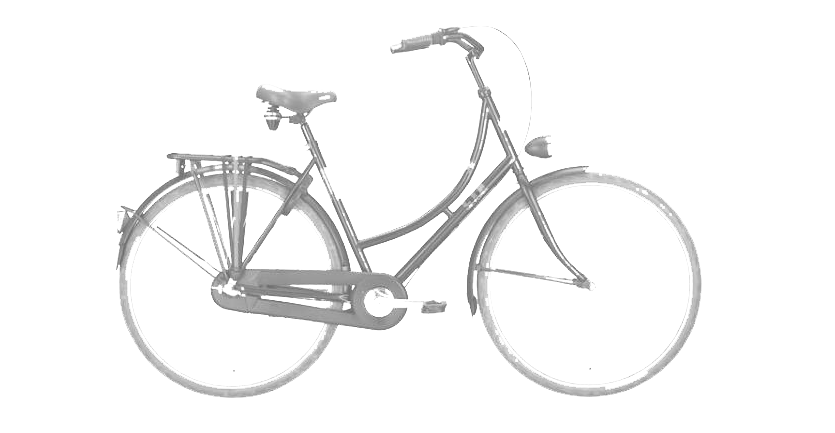 Why be part of the project?
You will be helping others catch a glimpse at what everyday cycling looks like. Plus, you get a sweet ride. Bicycles in the Netherlands are meant to be ridden everyday. The purpose of the project is to bring a little more of both to Winnipeg. While doing so, we will all spark an important discussion of how to plan better cities.
The most common type of bicycle in the Netherlands is surprisingly hard to find here. That doesn't necessarily make them special. They are certainly no more/no less special than a ubiquitous grey Honda Civic, for example. Ironically, while this project has bicycles and technology at the heart, it is actually about the exact opposite. It is not about bicycles at all, rather about the lack of the need to think about the bicycle.In fact, what makes plain bicycles so special is the fact that they are so common. There is something quite liberating about riding to work on the same "plain bicycle" as every one else. It is compounded by not having to plan your route, wear special clothing or know what kind of derailleur you have if it breaks.  The bicycles you see everywhere in Rotterdam, Eindhoven, Utrecht may be all be similar, but they are beautiful and each one is embedded with a sense of civilization, freedom and normalcy.
It is just a matter of time before the shift happens here. You are simply helping it along. And it can happen fast. Networks of cycling infrastructure can take surprisingly few years to complete. The Netherlands only started building cycle tracks in earnest after the 1970s. In 2003, cycling rates in Seville, Spain jumped by 11X (!) over a few short years after they got serious about an ambitious, segregated network of protected bike lanes. Cycling networks across our own continent are growing (in Winnipeg too).  As they grow, a "plain bicycle" will probably quickly become the preferred bike for most.  So, what better way to welcome the bicycle infrastructure being built in Winnipeg and all across North America than by being one of the early adopters?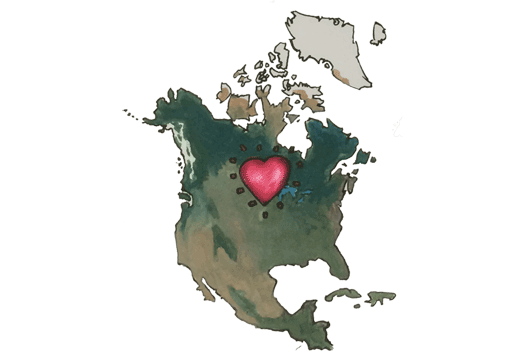 Who rides one? 
Everyone. As the saying goes, in the Netherlands, there are very few cyclists, but lots of people who ride bikes. In the Hague, specifically, more than 22 out of every 100 trips is taken by bicycle. The numbers are even higher in cities like Gronigen, Njimegen, Tilburg and so on.
To get a rough idea, watch this famous video from Utrecht. Keep an eye on the kind of bikes people are riding:
Who are they for?
Individuals, families, couples. A Dutch bike makes an excellent birthday, anniversary or Christmas gift . . although the recipient will admittedly need to be a little patient. If you order one as a gift, we suggest a nice hand drawn card with the words "Dutch Bike, Coming Soon/Eventually" and this URL.
A few Dutch bikes also make an awesome, inexpensive and useful little fleet for offices – especially with the built in lock. Arrived at work by bus or car, but have a lunch meeting a few blocks away? No problem. Just hop one of the office bikes and go. Just a nice little thing that an employer can do to keep its employees happy…and productive.
What will MY bike have?
Your bike will be guaranteed to:
– work
– have fenders, front and back
– have upright handlebars
– it will have a rack for riding "Dutch"
– it will have an integrated lock
– kickstand
– a sturdy steel frame
It might have:
– a front rack
– a bell
– a coaster brake
– working running lights and dynamo
It probably will:
– have a fully-enclosed chainguard
It probably won't:
– have gears (Netherlands is flat, so is Winnipeg); if it does have gears, it is likely internally geared (which lasts much longer anyway and stands up to more abuse)
It definitely won't have:
– shocks
– gel seats
– computers
– disc brakes
– knobby tires
– carbon fibre
-but you don't need or want any of that on an everyday bike, do you?
Let's do this. What will it cost me to get one? 
$250 + fees
The breakdown for the base cost is as follows: Depending on the size of shipping container, the cost to bring them to Canada will end up being somewhere between $4000 and $7000 for shipping. Most likely it will be a 20′ shipping container. The bikes themselves will cost roughly the same to purchase and repair the bikes (- these bikes can typically be found for somewhere around 120-140 Euros or $160-$200CAD at just about any "Dutch-version-of-Value-Village-or-Kijiji" in the Netherlands. To make things easier and since we are getting a lot of them, all the bikes will be charged at EUR115). An additional amount will go towards the trouble of packing the crate. Other costs include ground transportation (in NL and in Winnipeg), handling (from the shipping company), and duty (unfortunately, even used complete bikes are subject to Canada Border Services' 13% import duty). There are a couple little things like the cost of the URL.
There are provincial and federal taxes too on imported bikes, even if they are used. Paypal charges a 2.9% fee (….the only thing that is not 100% refundable, if it doesn't work out.) When all is said and done, this is a break-even proposition.  You do the math.
Or, if you really like math, have a look at the full budget here.*
How Many People Need to Sign up?
We need around 100 committed people. Ideally, the shipping container is full, so more is even better.
What colour will my bike be?
As Henry Ford said, you can have a bike in any colour you want as long as it is black. (Or in this case, whatever colour it happens to be.)
Can get any other kind of bike?
If you are interested in something specific for special purposes (like a cargo bike for carrying kids, deliveries, etc.) or a Dutch bike for kids, let us know. This may/may not be possible depending on their availability used or room for them in the container.Tell us what you are looking for and how much you are willing to pay and we'll do our best. We'll evaluate these on a case by case basis. Priority will go to those who have already signed up for a plain bicycle.
Can I get a brand new Dutch bike?
From us, no. But contact your local bike shop in Winnipeg to see if they have one on the floor or find out if they can bring one in for you. There a few distributors in Canada with access to major brands like Batavus or Gazelle, but it isn't always easy to get a plain bicycle. One day that will change. This is all part of it. Something to note: one of the virtues of second hand bikes is that they blend in with the crowd. Thieves tend to pass over perfectly working bikes with a little rust – in favour of the sparkly new ones. Something to consider.
Where do these bikes come from?
An incredible number of bicycles are abandoned, traded-in, donated or sold by their owners every year in the Netherlands. The typical "Value Village"-style shop in a Dutch city will have a basement full of plain bicycles, for example. The city of Rotterdam repairs the bicycles it collects and sells from city-owned secondhand shops. Anders and Leigh Anne are planning to stay in the Netherlands for a few months again this winter and are willing to coordinate the shipment from Tilburg. Some will come from Den Haag again, some from Tilburg, some from Rotterdam.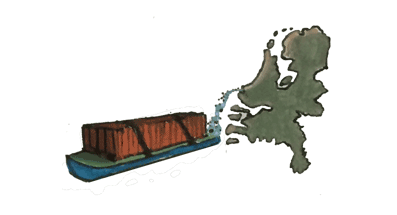 Why was the deadline extended?
We didn't reach the goal of 100 bikes sold. Incredibly, we got to 56, which is more bikes than get sold in some bike shops in that period over the winter. Some folks decided to drop out as per the plan and get their money back. We want to see what happens if we let people sign up over the busy summer months.
What's the new deadline?
November 1st 2016. Do everyone a favour though and pretend that the deadline is tomorrow, tell your friends and don't wait until the last minute.
When will the shipping container arrive?
The goal is again to have them by the spring 2017 (Dutch bikes make great winter bikes too though, so hopefully sooner). Much depends on how quickly we reach the minimum, and how long it takes to be shipped to Winnipeg. The sooner we reach the minimum, the sooner the fun part begins, and the sooner the bikes arrive.
How do I pick my bike(s) up?
They will be available for pickup as soon as the shipping container arrives in Winnipeg.
Which bike will be mine?
Unless otherwise advised, bikes will be available on a first-come-first-served basis.
What if not enough people want one again this time? 
Same as the first time. People will get their money back (minus the fee Paypal charges). Except this time, we have a whole summer to talk to people about it. So keep telling your friends. It also gives us time to entertain options such as folks who might want just frames, or more special requests for cargo bikes. Maybe someone wants to ship some cheese? If you have anything you are looking for, be sure to fill out the special request form.
What happened to the people who signed up for the original plan?
Those who signed up for "Plan A" (and kept going) are now helping to make this happen!
Those who signed up for "Plan A" (but did not wish to continue) got their money back, according to the plan.
What did you learn from the first round?
Foremost, we now know that this can work. The goal of raising awareness (the most important thing) has so far been very successful. We have lots of people asking the Netherlands, about Dutch bikes, and learning about everyday bike culture. We always know finding 100 people to pre-pay for an unseen Dutch bike in the middle of winter would be tricky. It was pretty encouraging that 57 intrepid people signed up. We also learned that a number of people requested a cargo bikes. There just aren't that many of the same type here. We can try for those too.
I can't wait, what can I do?
Tell all your friends. Order a fleet for your workplace. As soon as we reach the threshold, we will start work on things. Or just buy a new one!
You can also print off a poster, put it up at the office, in the break room, in your apartment lobby, or wall paper your bedroom ceiling with them (every little bit helps).
Here is a poster. Print lots. Go forth! Spread the word!
PlainBicyclePoster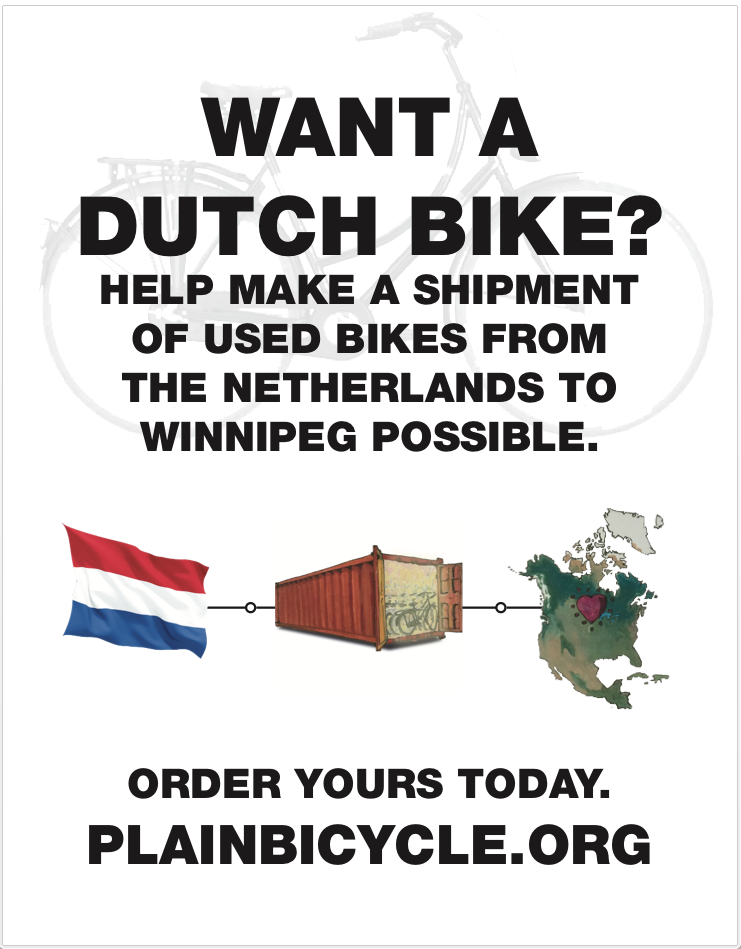 If my bike breaks in Winnipeg, where can I fix it? 
You can get your bike fixed at any of your favourite local bike shops in Winnipeg. Or you can learn to fix it yourself.

Who is behind all this?
Anders Swanson is from Winnipeg. He used to repair lots of bicycles at his favourite bike shop. Now he goes around working on bicycle policy, infrastructure and design. Leigh Anne Parry is a theatre director, and former bicycle courier with some mad organizational skills and an equal passion for bike infrastructure. Both were in the Hague until mid-December 2015 when they cooked up the original idea. And will be going back for a few months in the winter of 2016/2017.
Contact us:
For most questions, you can find us on twitter or if your question is private (i.e. you are ordering as a gift and need to clarify something) get to us via email. anders[a]plainbicycle.org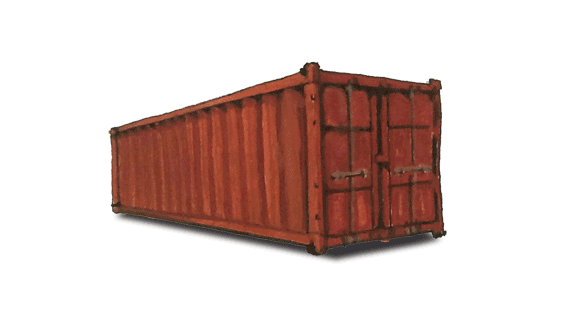 Sign me up.
Go back to the home page. 
Follow the project on Twitter
Find us on Facebook